Event Furniture Hire Greater Manchester
The conurbation of Greater Manchester is a large one, obviously comprising not only the city of Manchester but also some major towns with large densities of population such as Oldham, Salford, Stockport, Wigan, Rochdale and Bolton to name just a few. Furniture hire, therefore, is a popular choice as part of our Greater Manchester event hire range.
With this large population in the North West, it stands to reason that there will be a huge amount of events taking place throughout the year.  These range from small scale such as family birthday parties in the village hall or outdoor gatherings in the garden through to medium-sized weddings and all the way through to large scale professional events such as exhibitions at Manchester Arena or Event City for example.
The larger the event, the more chance there is that Blue Sky Event Hire's furniture hire Greater Manchester will be called upon.  After all, small scale events can often be catered for by borrowing friends and families garden patio sets, BBQs and other equipment.  The larger events, however, need temporary event furniture in quantity.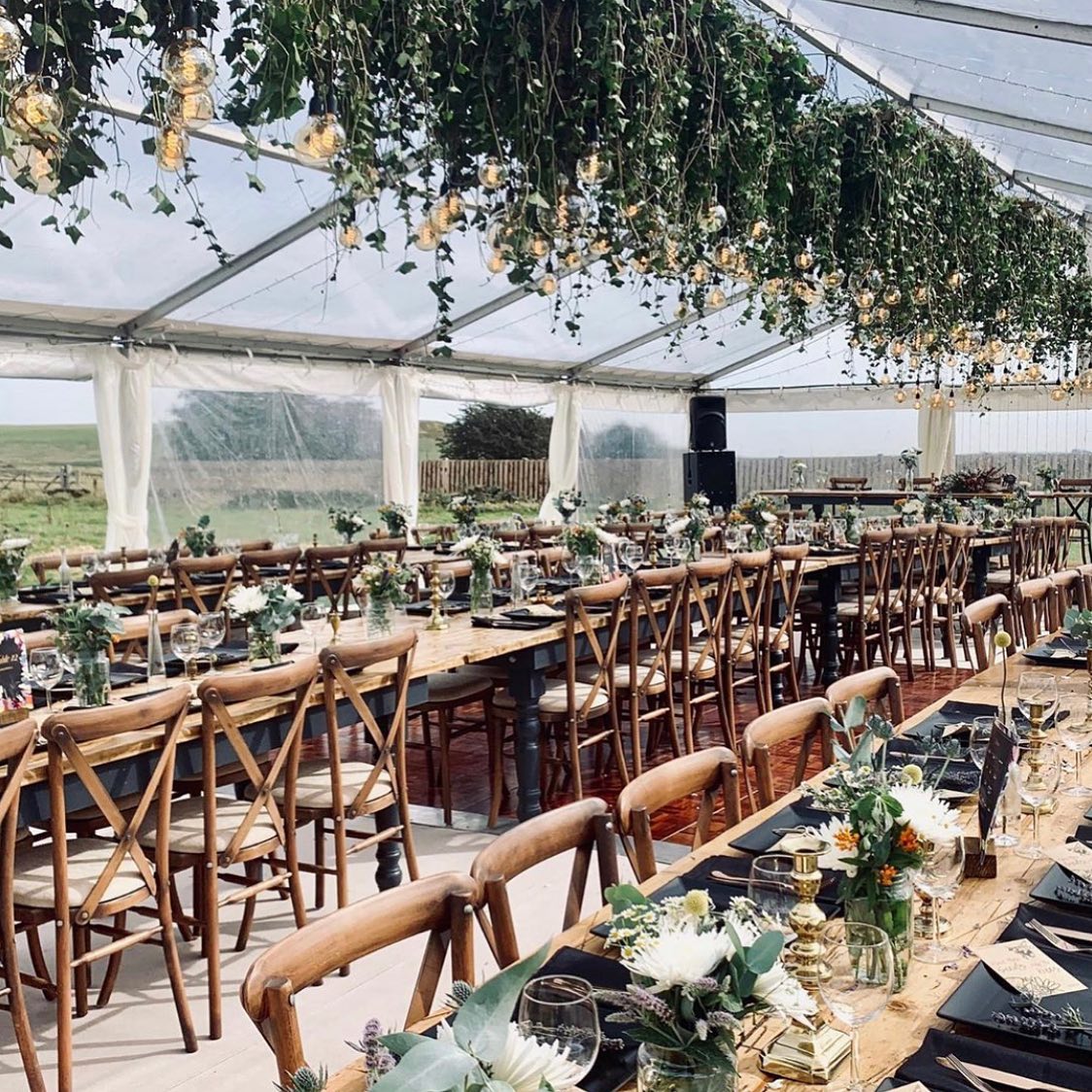 Conferences, meetings and exhibitions are a great example of where furniture hire Greater Manchester is used.  For large scale conferences, organisers will be looking for desks, tables, chairs and even social distancing equipment such as Tensabarriers and dividing screens, for instance.  And this is for the day's activities.  Come the evening, and many of these event spaces become party venues where your guests, employees and delegates can let their hair down.  That's why our range of dance floors for hire and portable bar hire Greater Manchester are always popular.
Weddings, of course, are another source of demand for event furniture rental such as wedding tables and chairs, linen such as tablecloths and napkins and all the way through to outdoor furniture hire and patio heaters to keep the chill off the air during the summer evenings as the sun goes down. It really is no surprise that Greater Manchester event hire is always in demand!
From our Yorkshire HQ, Blue Sky Event Hire is well positioned to be able to service your furniture hire in Greater Manchester as a region.  Simply browse our website and make your selection and let us know the quantities you need along with the dates for when required, and we'll send you our customised quote.  Our expert team look forward to working with you on your upcoming event or occasion so contact us today!
Chair Hire Greater Manchester
One of our most popular areas of demand for the Greater Manchester region is for chair hire.  The Blue Sky Event Hire service to this area is so comprehensive and hassle-free that Greater Manchester chair hire has never been simpler!
Whether you need to rent wedding chairs for your special day, or conference chairs for your professional occasion, rest assured the team here has it covered.  We strive to provide our clients with the very best in choice when it comes to chair rental Greater Manchester, offering chairs of every shape, size and colour to help you style your event in the best way possible.
We also offer a regular delivery and collection into and out of the Greater Manchester region so that you can place your chair hire order with 100% confidence and leave it in the hands of the experts, safe in the knowledge that your order will arrive on time, in the right place and it is what you ordered!
Check out our Chiavari chair hire Greater Manchester, Tolix chairs, Rio chairs and ISO chairs as points of interest, all of which offer something different to the rest.  We realise that no two events are the same and provide you with everything you need to make your event the total success you deserve it to be.
So, simply key in "chair hire company near me" and Blue Sky Event Hire will appear on Google – place your order and leave the rest to us, enjoying a seamless hire experience direct to your door. Greater Manchester event hire has never been easier!
Catering Equipment Hire Greater Manchester
As an event organiser, it's vitally important that you get your catering right.  Done well, it's a real talking point.  Done poorly, and it's also a talking point but for all the wrong reasons!
There's little doubt that your catering team will tell you in great detail what catering equipment they need in order to operate efficiently and effectively, and our range of catering appliances, kitchen equipment & utensils and food serving equipment for events and occasions in Greater Manchester is second to none.
All our powered catering equipment arrives with you in great working order and comes with a user guide for your safe and efficient use so always make sure you read this prior to operation.  Furthermore, all our tableware such as crockery, cutlery and glassware comes to you in pristine condition, ready for instant use on your event tables – the least you would and should expect from the leading catering equipment hire company in Greater Manchester.
Greater Manchester Event Hire
Whether you're a professional caterer or simply wanting to hire catering equipment for a small family gathering, take a few moments to browse our range and you'll find that you can rent everything you need from our one-stop shop.  Our expert team are ready and waiting to assist you in whatever way they can so why not contact us now via our website or over the phone – we look forward to working with you on your upcoming catering event or occasion as part of our Greater Manchester event hire offering!