Event Furniture Hire Yorkshire
Temporary events take place around the county of Yorkshire throughout the year and the types of events that require event furniture hire Yorkshire are wide ranging.  The great thing about Yorkshire is that it is such as large area and includes a whole host of welcoming towns and cities, packed with great venues for such events.  From Sheffield and Doncaster in South Yorkshire up to Leeds in West Yorkshire and then Harrogate, Skipton and the city of York in North Yorkshire, there are plenty of stunning destinations for holding your wedding, corporate event, festival or other temporary event or occasion. That's why Yorkshire event hire is always so popular.
Many of these types of events require event furniture rental Yorkshire which is available today in the quantities you need from Blue Sky Event Hire.  Located near Skipton, Blue Sky is perfectly situated to be able to provide furniture hire in Yorkshire across the entire region in a quick and affordable manner.  Our years of experience provide us with a great insight into what is popular with clients around Yorkshire, and wedding furniture hire Yorkshire is always a great place to start.
Weddings and other celebratory occasions are joyous events, and so the last thing you want to be doing is worrying about where your furniture rental is coming from.  You'll want to place an order – for all your furniture – from the same supplier so that you only have to worry about one delivery, one invoice, one point of contact and one collection, leaving you to concentrate on areas of your event so that it is the best ever!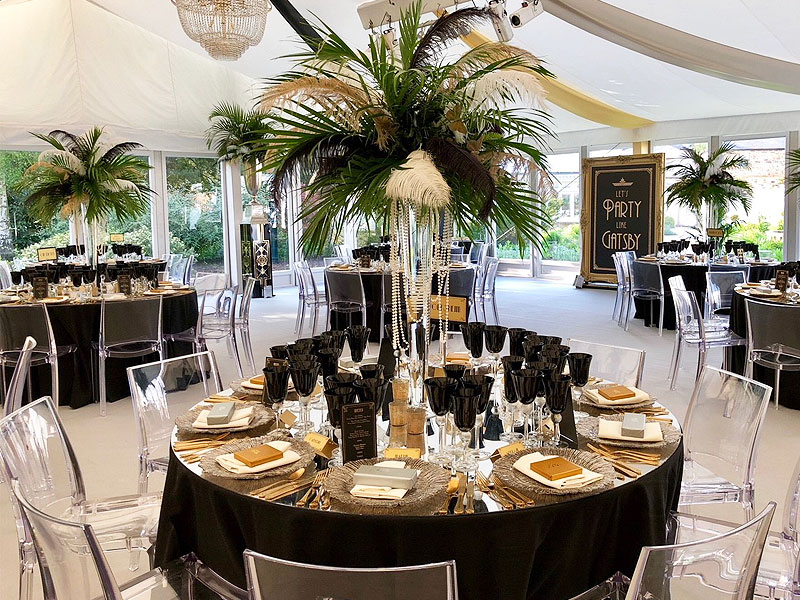 And when it comes to wedding furniture hire in Yorkshire, few companies are able to match the size and scale of our offering.  Chair hire Yorkshire is always a popular choice for not only brides and grooms but also event professionals across the region.  And remember – it's not a case of one type of chair suits every event!  As the best furniture hire company in Yorkshire, we recognise that it's important to provide our clients with the widest range of choose, which applies not only to chair rentals but also to other furniture such as table hire Yorkshire, portable bar hire, dance floor hire Yorkshire, outdoor furniture, stools and poseur tables for instance.  In other words, whatever your event in Yorkshire, you can rest assured that you'll find exactly what you are looking for right here online at Blue Sky Event Hire.  Due to their proximity to our HQ, furniture hire Skipton and furniture hire Harrogate are definitely our most popular areas to deliver into.
Event furniture hire Yorkshire has never been simpler, so don't hesitate to browse our website and contact our expert team, either by calling us or via our website where you can browse our selections and put the event furniture rental products you want into your picking list.  We'll then come back to you with a bespoke quotation based on your specific requirements.  You can then sit back, safe in the knowledge that your order is in the hands of the event furniture rental Yorkshire experts!
Chair Hire Yorkshire
Almost any and every event needs seating.  This seating might be comfortable and professionally styled chairs for large scale conferences, wedding chairs for that special country house venue or even bench seating for exhibitions and beer festival style events.  With such as a wide and diverse range of events and occasions taking place across Yorkshire throughout the year, it therefore stands to reason that the best chair hire company in Yorkshire – Blue Sky Event Hire – needs to offer the complete range of chairs for hire in the region…and we certainly don't disappoint.
Let's start with wedding chair hire Yorkshire.  The county has a huge selection of stunning wedding venues, including iconic and historic buildings through to more rural wedding venues where you might want to hold a marquee or tipi wedding.  Of course, certain wedding venues may well offer you chairs and tables for hire Yorkshire as part of your wedding package.
That said, these may not be to your liking or, alternatively, you might have hired the blank canvas event space and need to furnish yourselves.  A good place to start to when it comes to wedding chairs is to work out how many guests you are expecting.  Try to then produce a seating plan for the tables and chairs.  Remember wedding tables are available from Blue Sky Event Hire in a number of different sizes and so try to visualise in advance the dynamics and social interaction of the guests you are seating together.
Ultimately, you want everyone to have a good time!  When it comes to chair hire for weddings Yorkshire, our most popular range is Chiavari chair hire Yorkshire, with these classically styled wedding chairs available in a number of different colour options.  Check out any bridal magazine or even Instagram or Pinterest and the chances are that you'll see chiavari chairs in the shot!
Chiavari chairs are closely followed in popularity by our Napoleon chairs and then our rustic cross back chairs for those brides and grooms looking for something a little different.  Without doubt chair hire Skipton and chair hire Harrogate are always our most popular due to the proximity of the location to our HQ.
Of course, it's not just chairs for weddings in Yorkshire that we offer.  You might be a corporate event planner looking for something different to banqueting chairs and something more formal.  If this is the case, then we have a range of other banqueting chairs for hire Yorkshire which may well fit the bill perfectly.  Our Rio chairs, for instance, provide you with a polished chrome frame and a range of different coloured upholstery options from which you can choose the best fit for your event and your client.  Why not get some extra brownie points and try to match up the colour of your Rio chairs with your client's logo!
And then there's conference chair hire Yorkshire which requires a chair with additional comfort as you are asking delegates to be seated on the chair for a longer amount of time, maybe listening to a keynote speaker or lecture, for instance.  You'll inevitably want to hire matching conference chairs in large quantities – often in their thousands – and this is no problem for the team at Blue Sky Event Hire.  Choose from ISO chair hire Yorkshire or other conference chairs, available in their thousands! Everything you need when it comes to Yorkshire event hire is right here at your fingertips at Blue Sky!
And last, but by no means least, why not hire outdoor chairs such as our folding Samsonite chairs – a real mainstay of the events industry.  These fold to flat, arrive on pallets and are ideal for short term seating for concerts, outdoor theatres and so on.  Folding chair hire Yorkshire is available from Blue Sky in thousands, and we even offer a deluxe version which is slightly wider and deeper for additional comfort.  All you need to hope for now is that the great British weather behaves itself!
If you are looking to rent event chairs Yorkshire, then you need look no further as the team at Blue Sky Event Hire have everything covered to help you make your event the complete success you want it to be.  We work tirelessly behind the scenes to bring you the best range of chairs for hire in Yorkshire and very much look forward to working with you on your upcoming event or occasion. Check out our complete range of Yorkshire event hire products – you're sure to find what you're looking for!
Catering Equipment Hire Yorkshire
It's fair to say that the vast majority of events – whatever type it is – requires some form of catering.  Whether this is a temporary caterer supplying the food for a wedding marquee in the middle of a field, a professional caterer supplying canapés and finger food for a corporate buffet lunch, or the hospitality and sponsor lounge catering facility behind the scenes at a large sporting occasion or major air show, for example, the range of requirements is diverse.
Catering equipment is one of those product ranges which is all-encompassing.  It can include everything from heavy-duty commercial catering equipment for large, mass catering events through to tableware such as crockery, cutlery and glassware – in other words, all the equipment you need to successfully cater for an event, large or small.
And it's our range of catering equipment hire Yorkshire where Blue Sky Event Hire really comes into its own.  If you are a restaurant undergoing a kitchen refurb and need to hire temporary catering equipment for a short period of time, or whether you're a caterer needing additional catering equipment in gas or electric to top up your facility in preparation for a large Christmas catering event, for example, we have the complete range from which you can choose.  If it's electric turbofan oven hire Yorkshire, gas burners or the complete range of freestanding and under counter fridges, we have it all.
And one of the most popular products of catering equipment we offer is our range of trailer fridge hire Yorkshire and trailer freezers which provide valuable additional capacity of large scattering events across the Yorkshire region. Due to their proximity to your HQ, catering equipment hire Skipton and catering equipment hire Harrogate are our most popular destinations for our transport teams, and what lovely places to deliver to!
Yorkshire Event Hire
Whatever catering equipment rental Yorkshire you need, don't hesitate to put your faith in the hands of the experts here at Yorkshire's best catering hire company.  We strive to provide our clients with the very best in choice, all at the best prices, to help you create memorable dining and banqueting events that will live long in the memory! After all, Yorkshire event hire has never been easier!